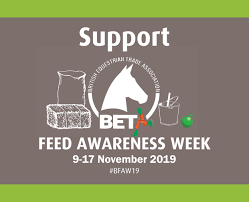 Are you ready to take the test?
BETA Feed Awareness Week aims to 'dispel feeding myths and improve your knowledge of equine nutrition.'
We stock a wide range of horse feeds to help you to find the right combination for your horse. Whether you need a high fibre, low sugar diet for a good doer, or high energy mix for competition, we will have the feed for you with products from all of the top equine brands.  We have a wide range of experience and qualifications within our staff and are always happy to discuss your horses needs and can always refer back to the feed company if we don't have the information you need.
We are supporting BETA Feed Awareness Week in store with the Feed Awareness Test. You could win £150 shopping voucher to spend with a BETA retail member by ticking the correct answers on the test sheet you can pick up at the counter. One winner will be drawn at random from all entries submitted with the correct answers.